Bhopal is known as the city of lakes. Bhopal is the capital of Madhya Pradesh. It has various natural as well as unnatural lakes and is one of the greenest cities in India. Modern Bhopal is a spot where one can see the abundance of tradition is intertwined with the modern life. The fragments of the glorious past live on in the havelis, grand mosques and the museums. A bassinet of arts and culture, Bhopal provides various centers of contemporary and performing arts. Bhopal is a pivot of the folk and tribal arts that give a feel of village life in the state. Conjointly all these, Bhopal is acclaimed for the famous cave paintings, which are not only valuable for their artistic values but also for their ethnicity. Below are some of the famous spots of Bhopal where one must take a visit:
Bharat Bhavan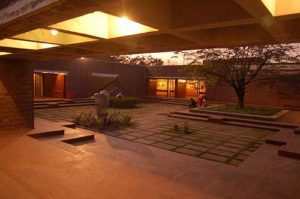 Bharat Bhavan is a multi-arts complex without parallel in Bhopal, India housing a museum of the arts, an art gallery, a workshop for fine arts, a repertory theater, indoor and outdoor auditoria, rehearsal room, and libraries of Indian poetry, classical and folk music, visual and the performing arts.
Bhimbetka Rock Painting

Bhimbetka is a logical treasure house to pre-historic era. One could savor paintings depicting everyday vents of our ancestors like scenes of hunting, dancing, horse and elephant riding, household scenes, honey collection, animal fighting scenes etc.
Lower Lake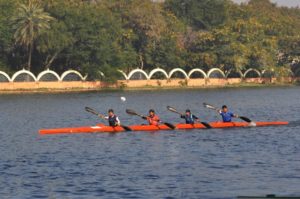 Hemmed by the magnificent Kamala garden, the Lower Lake presents aesthetic appearance. Exciting trips by sail, paddle and motorboats over the Lower Lake is fascinating attractions for adventure lovers. The Lower Lake, which is also called as the Chota Talaab, is separated from the Upper Lake by an over-bridge.
Bada Lake

The Upper Lake is famed as 'Bada Talab', built by Raja Bhoj in 11th century. The lake is spread over 36.1sq km and is surrounded by beautiful royal garden and Kamla Park. It is a perfect place to relax and enjoy various water sports like Kayaking, Canoeing, parasailing and water skiing. To the east of Upper Lake is the 'Chota Talaab', The Lower Lake which was constructed by Chote Khan in 1794
National Telecom Museum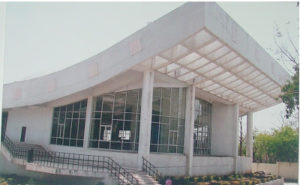 The museum has an magnificient blend of modern and ancient telecom equipments of India and has captured the golden history of Indian Telecommunication. The museum houses, 1837`s Highton`s Telegraph Galvanometer, 1874`s Baudot`s Printing Machine, 1+1 Carrier system, Old historic document and bills, Payment sheets and performance record books dating books to British era of 1913 and 1917, Different type of old and New UIG cable models antique Round Bracket Post, Cordless system of 1878 and several other things
Sadar Manzil

A graceful building of the princely era, Sadar Manzil is located at the Chowk area of Madhya Pradesh. The former rulers of Bhopal were using this graceful building as a hall of public audience. This brick-red edifice has a flamboyant appearance, and the precincts that surround the palace make it picturesquely beautiful.
Shaukat Mahal

This place is stationed at the Chowk area of Bhopal. It is one of the constructive wonders of Bhopal. The Mahal is an odd combination of Indo-Islamic and European styles of architecture. Supposed to be designed by a profligate Frenchman, the building is very different from the rest of the Islamic architecture in the locality.
Other Places
Islam Nagar, Samasgarh, State Archaeological Museum, Regional Science Centre, Raj Mahal, Moti Masjid, Museum Of Mankind, Manua Bhan ki Tekri , Aquarium, Purana Kila, Dhai Seedi Ki Masjid, Van Vihar National Park,  Taj-Ul-Masjid etc.
BY FLIGHT
There are various private and Air India flights from other major cities of the country to Bhopal on regular basis.
Airport(s): bhopal airport (BHO)
BY TRAIN
Bhopal railway comes under central railway, is well connected to other major cities of the country via regular trains.
Railway Station(s): Bhopal junction (BPL), bairagarh (BIH), bhopal habibganj (HBJ), bakanian bhaunr (BQE), bhadbhadaghat (BVB)
BY BUS
Bus service available on regular basis to Bhopal from other major cities of the country.
Bus Station(s): Bhopal