Summer is that time of the season when every girl wants to dress up and look even more pretty. No matter how many tops a girl has, it just not seems enough. No girl likes to repeat her clothes so here is a list that every girl must own during summer.
TIE UP- Tie up is the new trend in the fashion industry and this trend is slowly catching up the pace. Flattering tie up tops makes you look even more stylish. Tie up tops look best with trousers and a pair of wedges.
CROP TOP – Crop top is one of the most important summer essential that every girl must own.The best part of
buying a crop top is that it can be paired up with jeans, skirts, shorts and you are good to go.
LOVE FOR DENIM– Denim is one of the trends that will never go out of the fashion. Denim shirts, tops, jackets give an easy breezy and playful look to one's personality.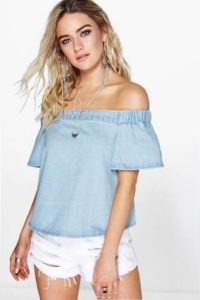 CROCHET TOPS– If you are one of those girls who cannot compromise on your style quotient then crochet top is must have in your wardrobe.
FLORAL TOPS-Floral tops must be in every girl's wishlist. Floral tops must be paired up with white trousers and sneakers to get a more feminine look.