It is an Indian national park located in West Himalaya, in the state of Uttarakhand. This national park is also known for its field of indigenous alpine flowers and the variety of flora. This National Park is also a home to imperil animals including Snow Leopard, Asiatic Black Bear, Brown Bear, and Blue Sheep. This national park spread over an expanse of 87.50km square and it is about 8km long and 2km wide.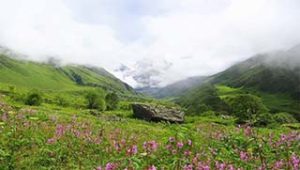 This valley of flowers is a high-altitude Himalayan Valley that has long been admitted by famous mountaineers, botanists. This valley has many different colourful flowers. This valley was declared a national park in 1982 but now it is a World Heritage Site. Valley of flowers is the second core zone of the Nanda Devi Biosphere Reserve.
The Valley of Flowers National Park is controlled and administrated by Uttarakhand State Forest Department. The park is only open in summer from June to October and rest of the year, it is covered by heavy snow. From mid-April to June, the temperature is moderate to cool, approximately 19˚c. There is also dense fog and rain during the late summer monsoon. The Valley of flowers is all time beautiful. The best time to visit the Valley depends on your liking.