One of the most skillful, smart, intelligent and competent director of Hindi film Industry Kabir Khan was born on 14th September 1971 at Hyderabad. He was raised by his father Rasheeduddin Khan and mother Leela. His father was a professor of Jawahar Lal Nehru University.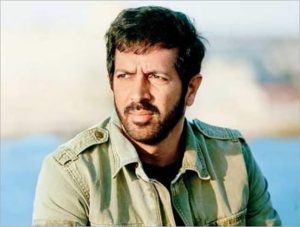 Kabir began his career as a cinematographer for the documentary " Beyond the Himalayas ". The documentary was directed by Gautam Ghosh and the documentary was shown on the discovery channel. In 1999 he took his documentary career forward by directing the documentary " The Forgotten Army " which was based on Shubhash Chandra Bose's Indian National Army. He was mainly focused on making more documentaries.
By the year 2006, Kabir shifted his focus to mainstream cinema and made his directorial debut with the film Kabul Express. This movie won the 54th National Film Awards.
In 2009 Kabir made a thriller named "NewYork". This movie was very well received by the audiences as well as critics.
His next directorial was none other than with the Superstar Salman Khan in the movie "Ek Tha Tiger". The movie released in 2012 and it broke all the box office records.
In 2015 Kabir again collaborated with Salman Khan for the movie "Bajrangi Bhaijan". The movie received positive reviews from critics and won million of hearts due to the beautiful line of the movie. In 2017 this director and actor duo came back to the big screen with the movie Tubelight. However, this film was not able to create any magic at the box office.