Hollywood's most powerful actors, Will Smith was born on 25 September 1968 in Philadelphia, America. He is a multi-talented actor who is not just famous for his world-class acting but also for his rapping and songwriting.
He started his career as the MC of the hip-hop duo DJ Jazzy Jeff and the Fresh Prince, where his friend Jazzy Jeff was producer and turntablist and Ready Rock C was the human beatbox. Together the trio was like a house on fire and their sings were very popular among the youth. Two of the most notable songs were "Parents just don't understand" and "Summertime". In 1988 the trio received their first-ever Grammy Awards.
After this major achievement, he was all set to enter into the world of glitz and glamour. His only goal was to be the "biggest star of the Hollywood".  In 1993 his dream came true when he was offered the role of Paul in the movie Six Degrees of Separation. The film received great reviews and Will's performance was also applauded.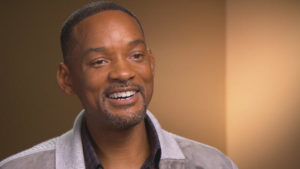 In 1996, he starred in Ronald Emmerich's Independence Day. The movie was highest grosser of the year. The milestone of his career was Men in Black which went on the floors in 1997 and became a blockbuster hit.  He was also part of Men in Black 2 and Men in Black 3.
Not only Smith, his son Jaden is also a born actor. The father and son duo acted together in the movie " Pursuit of Happiness" and science fiction " After Earth".
Smith has a lot of awards under his name. He has total six music awards out of seven nominations. Another feather in his cap is that he has won Four Grammy awards.